6-sensor temperature monitor in a Warré hive
Hardware: Ceech 'Astri Arista' microprocessor board (simulates an Arduino Pro Mini)
Aim
To monitor temperature distribution in a Warré hive through a winter. An earlier monitoring of a Warré from February to June 2017 is shown here. This was abandoned when the queen failed in the summer.
Acknowledgements
Thanks due to Jody Noury for putting this kit together and for supplying the code for the multigraph viaualisation of the data. Thanks also to Clive and Glyn Hudson for their hive monitoring project which provoked me to try doing one myself.
Related projects
Glyn, Clive & Shân Hudson's National hive monitor: www.beemonitor.org
Jody Noury's Warré hive monitor with time-lapse photos: www.jodaille.org & www.jodaille.org/snapshots/
Open Source Beehives: http://opensourcebeehives.net/
Arnia Remote Hive Monitoring: www.arnia.co.uk
Hive Tool: www.hivetool.org
Hive Eyes: https://community.hiveeyes.org/
Beekeeping.io: www.beekeeping.io
Monitor technical details
The monitor is based on a Ceech Astri Arista (Arduino Pro Mini) board with a real time clock, micro SD card writer/reader, a 18650 4.2V battery, and six DS18B20 waterproof temperature sensors.
A fuller account of the equipment is here with the exception that a LED was connected to digital pin 5 through a 1K resistor and the sketch set to light it briefly when data are saved to the SD card reader/writer.
This board has an option for charging the 18650 4.2V battery with a solar panel but this functionality was lost due to water penetration. The battery lasts for at least a week with SD card saves at 30 second intervals, so is changed on a weekly basis at the same time as the SD card.
The monitor was housed in a 30 mm deep eke seated on the quilt and immediately under the roof. The eaves of the roof were extended downwards by 40 mm to prevent rain penetration at the quilt to top box junction.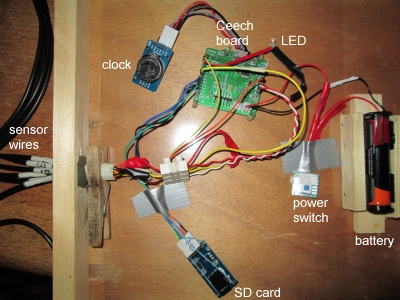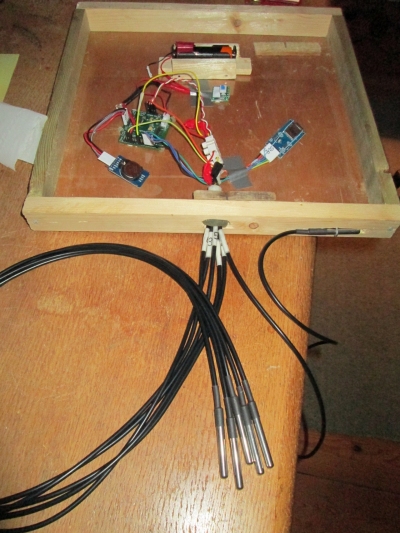 The installation was carried out in much the same way as with the first Warré that was monitored, details here. The main difference was the position of the sensors. The hive used was initially a 4-box Warré with the top box entirely filled with honey. This was harvested before installing the monitor. The top box of the remaining 3-box Warré weighed 9Kg indicating a possible stores weight of 4kg. This is below the weight needed for safe wintering, but at the time of installation in late August there were about two months foraging to run (Impatiens glandulifera, Hedera helix etc.). As at an earlier inspection central combs in box 2 were almost all brood, the positioning of sensors was focused on this box.
Multigraph visualisation of Warré temperature data at dhmonitor.jodaille.org
(using emoncms.org powered by openenergymonitor.org)
NB. Boxes are numbered from the top of the hive.
T1 Outside ambient T2 Just under box 1 top-bar cloth T3 Top of box 2 east outermost seam by box wall
T4 75 mm down into the centre of box 2 centre seam T5 Top of box 2 west outermost seam by box wall
T6 75 mm down into the front of box 2 centre seam by box wall
See also: 6-sensor temperature monitor of a modified Lazutin hive here.
David Heaf
Email: david (at) dheaf (dot) plus (dot) com
David Heaf's beekeeping pages: www.bee-friendly.co.uk