David Junker's bentwood and reeds trough hive
The hive was kindly presented to me by David Junker. His own web page for his hive is here.
Construction
The wooden body frame is made from ash bent after heating in a steam chamber and clamped on formers until fully cooled. Between the inner and outer 'U'-shaped members of the frame is sandwiched a reed mat stabilised with stainless steel wire. Such mats, 5, 100, 200 cm in size, can be bought from ecological building materials suppliers. The inner 'U'-shaped end boards comprise 20 mm softwood inside, clad with 25 mm compressed cork board. The hive is designed for warm-way operation with an 40 mm diameter entrance tunnel in softwood at one end. The 15 ash frames, detailed below, are fitted with bamboo comb supports and spacers. The semicircular spacers on the frames give 35 mm between frame centres. An additional frame, analagous to a dummy board or division board, is fitted with an acrylic sheet to enable comb development monitoring without disturbing the brood nest. The top-bars are covered with an organic linen cloth, topped with a 25 mm thick sheet of fibreboard for insulation. On this rests the cuved wood-framed aluminium roof, which, like the Warré hive roof, is designed for ventilation of the loft cavity. The roof overhang is 140 mm at the front and back, and 70 mm at the sides.
The hive has remarkable similarities to an inverted skep with easily inspectable combs.
Matthäus Junker has provided calculations (in German) showing that the heat loss from David Junker's reed hive is less than half that of a hive with all softwood walls of 25 mm thickness and the same surface area. Note that the calculations take into account the thermal resistance of the inside and outside surfaces, as well as that of the wall material. A PDF of the calculations, together with hygrological considerations is downloadable here.
Cloaming
The hive arrived fully built apart from the roof and stand which were easy to assemble, but David Junker advised cloaming the exposed reeds in the traditional manner used for skeps. I used Matthias Thun's cloam recipe comprising clay (1 part), fresh cow manure (1 part), seived wood ash (1/2 part) and whey as required. The clay was dug from a local outcrop and required much kneading with water before it was soft enough to use.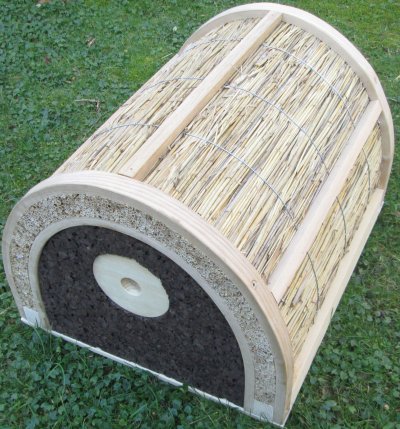 Bentwood and reeds trough with cork-lined ends and entrance hole
Below left: cloam ingredients Centre: mixing cloam Right: applying cloam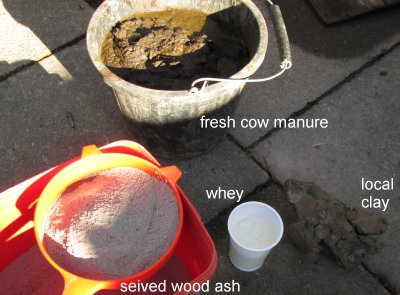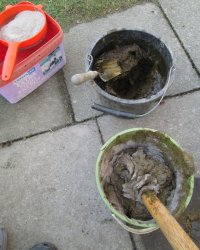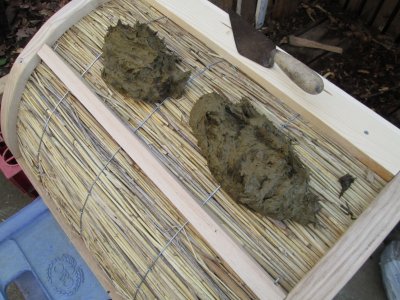 Below: partly cloamed hive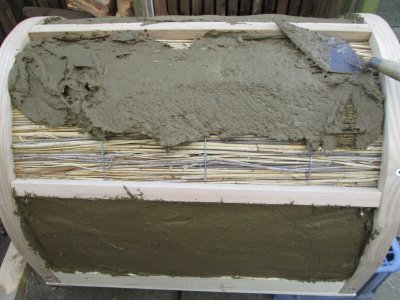 Below left: inside of roof Below right: a frame showing spacers and comb supports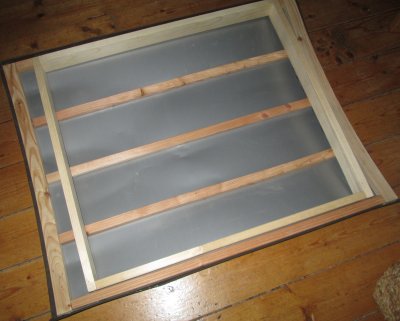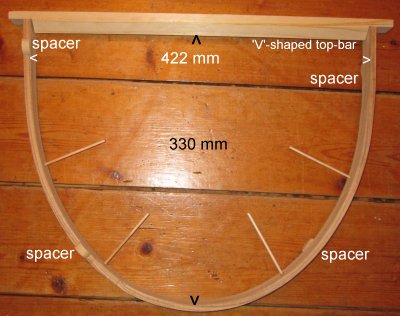 The roof is a curved piece of aluminium on a curved frame comprising a bentwood batten at each end joined by five rafters dowel-jointed to the ends, and with a rectangular frame attached below forming eaves that loosely enclose the hive body's top.
The whole comb area on the partly semicircular frame is estimated by dividing the inside of the frame into a rectangle 120 x 420 mm at the top witha near-semicircle of 210 mm radius below it. This gives 1196 cm2 per frame, 17,740 cm2 for 15 frames and 35,880 cm2 for both sides of each comb. By comparison, an 11-frame British National brood box has 14,234 cm2, and a 22-frame Einraumbeute (golden hive) 50,138 cm2. Volumes occupied by fully built comb in all three hives are: reed trough 62.8 litres, National 24.9 litres, ERB 87.7 litres.
Below left: 4 frames and the acrylic division board in place Below right: 25 mm fibreboard in place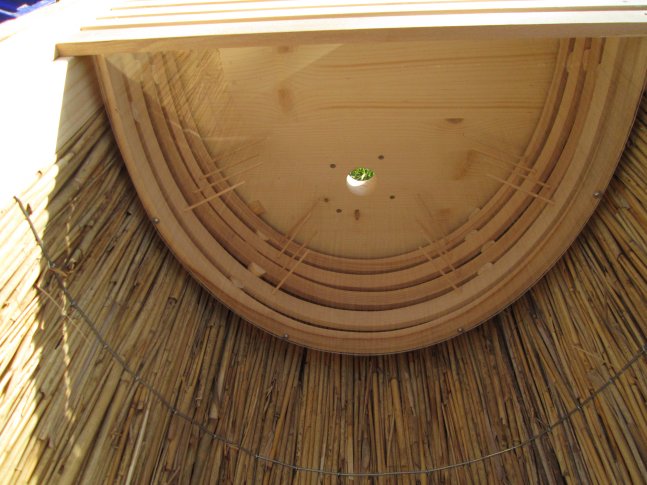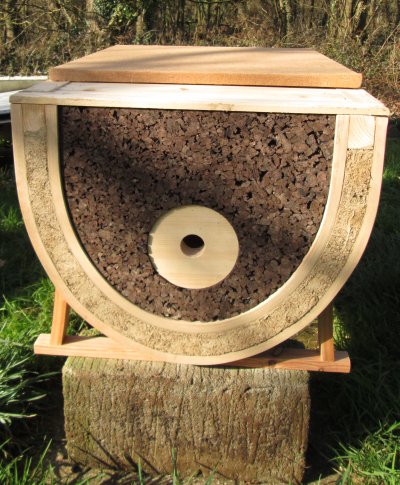 Below left: the complete hive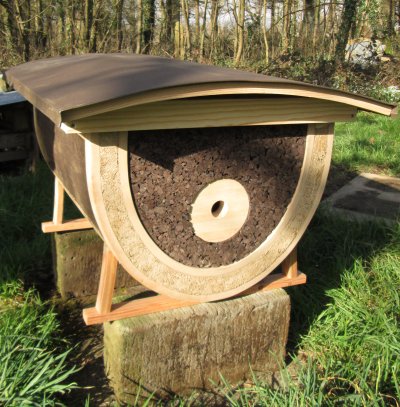 References
Thun, M. K. Die Biene -- Haltung & Pflege. M. Thun Verlag, 6th edition, 2015.